ONO Valentine sheet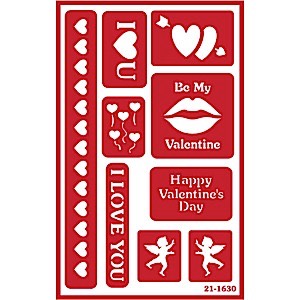 Default Manufacturer
,Valentines,Love,hearts,lips,Over,n,Over,Stencils
21-1630
21-1630
6.50
Etchworld.com
https://www.etchworld.com/Item/21-1630
ONO Valentine sheet
ONO Valentine sheet
Style #:21-1630
Valentines, Be My Valentine, hearts
Use them in combination's to create one of a kind glassware. Geometric shaped drinking glasses are very popular. Why spend all that money for decorated glasses when you can do it yourself more economically.

Heart Border: .375" x 7.0"
I (heart) U: .25" x 1.50"
Heart Balloons: 1.5" x .875"
I LOVE YOU: .25" x 3"
Double heart with arrow: 1.50" x 1.75"
Be My Valentine: 1.50" x 1.75"
Happy Valentine's Day: 1.75" x 1.25"
Cupids : .75" x 1.0"
Get discounted pricing on Special Offer items when you buy today.
Denotes exclusion from all discount offers. Discount codes are not applicable on excluded items.
Software: Kryptronic eCommerce, Copyright 1999-2020 Kryptronic, Inc. Exec Time: 0.142218 Seconds Memory Usage: 8.851097 Megabytes