Romantic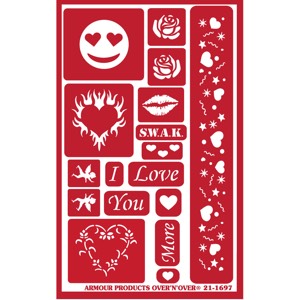 Default Manufacturer
,Valentines,Love,hearts,lips,I,Love,You,More,his,hers,mine,mustache,Over,n,Over,Stencils
21-1697
21-1697
4.88
Etchworld.com
https://www.etchworld.com/Item/21-1697
*****FREE SHIPPING*****
Free shipping on all orders over $49.95 within the continental United States
Romantic
Romantic
Style #:21-1697
25% OFF Special Offer
Romantic icons to show your feelings ...
Use them in combinations to create one of a kind glassware. Geometric shaped drinking glasses are very popular. Why spend all that money for decorated glasses when you can do it yourself more economically.
Emoji Smiling: 1.25" x 1.25"
Rose: .75" x .75"
Flaming Heart : 1.5" x 1.50"
Lips: 1.0" x 0.50"
Floral Heart: 1.50" x 1.50"
Heart border: 7.50" x .75"
More: 1.25" x .5"
View Over N Over Instructions
Related Projects
Get discounted pricing on Special Offer items when you buy today.
Denotes exclusion from all discount offers. Discount codes are not applicable on excluded items.