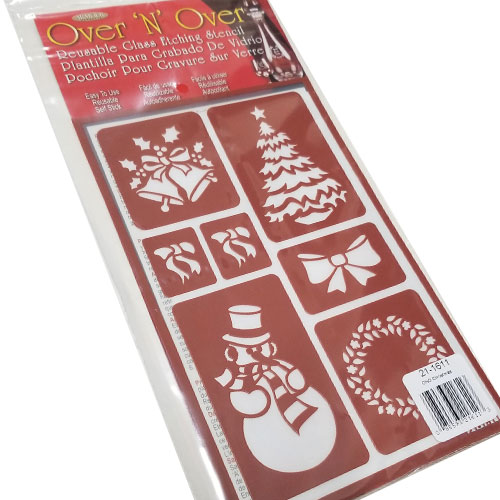 Over'N'Over stencils
Reusable, self-stick Glass Etching Stencils available in a variety of motif sizes and styles. Overall stencil sheet size is 5" x 8" (12.7 cm x 20.3 cm) Made from a flexible but durable material that can be used on flat and rounded surfaces as we
FREE Shipping on Orders of $39.95 or more!
Offer Valid to Continental United States only!
Over'N'Over stencils
Over'N'Over stencils
Reusable, self-stick Glass Etching Stencils available in a variety of motif sizes and styles. Overall stencil sheet size is 5" x 8" (12.7 cm x 20.3 cm)
Made from a flexible but durable material that can be used on flat and rounded surfaces as well as can be used many times depending on the care given when removing and reusing the stencil.
Over'N'Over Glass Etching Stencils are specially designed for glass etching. They can also be used with Sand Etch™ or water based paint on glass, mirror, ceramics and some other non-porous surfaces
Get discounted pricing on Special Offer items when you buy today.
Denotes exclusion from all discount offers. Discount codes are not applicable on excluded items.