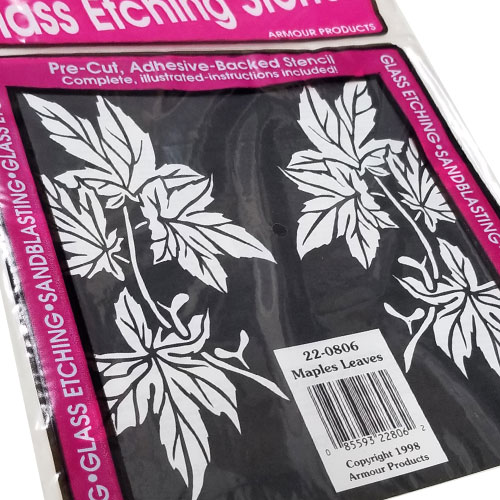 Peel'N'Etch Stencils
These pre-cut adhesive backed vinyl stencils are perfect for mirror decorating, door glass accents and wood carvings. Designed for chemical etching, mirror removing, sandblasting, painting and s
FREE Shipping on Orders of $39.95 or more!
Offer Valid to Continental United States only!
Peel'N'Etch Stencils
Peel'N'Etch Stencils
These pre-cut adhesive backed vinyl stencils are perfect for mirror decorating, door glass accents and wood carvings. Designed for chemical etching, mirror removing, sandblasting, painting and staining of glass, mirror, tile, metal, granite, and other non-porous surfaces. Each stencil includes complete photo illustrated instructions for a variety of applications.
The #19-xxxx series works great with Etch Bath to create tiny open (clear) areas when applied to glass and submerged into Etch Bath. Just place the Peel'N'Etch shapes randomly on the glass, then dip the project into the Etch Bath solution for those one of a kind gifts
Can be used with Armour Etch; Sand Etch
| | | | |
| --- | --- | --- | --- |
| | | | |
| Remove the protective backing sheet from the stencil to expose the adhesive | Press the stencil adhesive side down onto the surface of the project to be decorated. | Remove top carrier sheet. Lift & remove stencil pieces using artword as guide | Apply Armour Glass Etching Cream to stencil. Wait three to five minuts then rinse off with water |