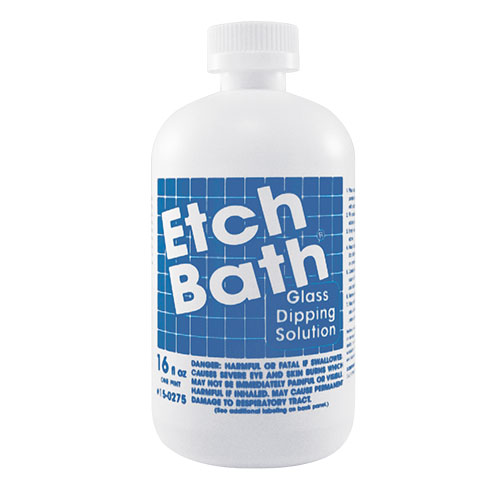 Etch Bath
When you are looking for a method to create an overall etched surface for a favorite glass or bottle...or even searching for a way to add depth and dimension to your glass beads, Etc
FREE Shipping on Orders of $39.95 or more!
Offer Valid to Continental United States only!
Etch Bath
Etch Bath
When you are looking for a method to create an overall etched surface for a favorite glass or bottle...or even searching for a way to add depth and dimension to your glass beads, Etch Bath is the only solution. When you dip your project into Etch Bath, this quick acting chemical goes to work producing a soft, overall etched surface. You can easily decorate any finished etched project using acrylic and oil paints, readily available decals, rubber stamps with permanent inks and embossing powders. A great way to recycle. Not for use by children. The Peel N Etch stencils pictured below make excellent Etch Bath projects. Just place the Peel N Etch shapes randomly on the glass, then dip the project into the Etch Bath solution for those one of a kind gifts.

| | | |
| --- | --- | --- |
| | | |
| Place glass object in empty plastic container. Fill container with water just to cover or to desired etching line. | Remove glass object, mark container with felt tip pen, empty water, dry both container and glass object | Pour Etchin Bath Glass Dipping Solution to level of pen mark, let glass object soak 5 to 10 minutes. |