Cheers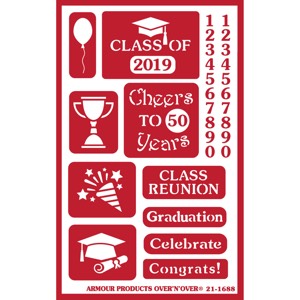 Default Manufacturer
capital letters .25" high, lower case letters vary
21-1688
21-1688
6.50
Etchworld.com
https://www.etchworld.com/Item/21-1688
*****FREE SHIPPING*****
Free shipping on all orders over $49.95 within the continental United States
Cheers
Cheers
Style #:21-1688
Cheers is a stencil you can customize with your graduation date, birthday or any other special occasion that requires a date or year. You put the "Class of" or the "Cheers to Years" on the glass first, then add the 2 or 4 digit numbers.
Placing the numbers is easily done with tweezers. Remember to put all your dried stencil pieces back onto the stencil carrier sheet for reuse later.
Sizes are approximate ... width x height
Balloon: 0.50" x 1.50"
Class Of: 2.25" x 1.50"
Numbers: 0.25" x 0.25"
Trophy: 1.0" x 1.25"
Cheers To Years: 1.75" x 1.75"
Class Reunion: 2.0" x 0.75"
Graduation Cap: 1.25" x 1.25"
View Over N Over Instructions
Related Projects
Get discounted pricing on Special Offer items when you buy today.
Denotes exclusion from all discount offers. Discount codes are not applicable on excluded items.