Bachelorette Party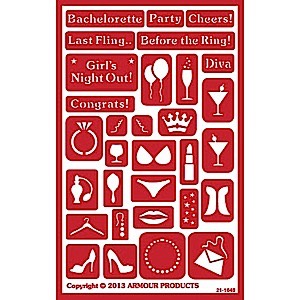 Default Manufacturer
capital letters 7/8" or .875"
21-1648
21-1648
2.60
Etchworld.com
https://www.etchworld.com/Item/21-1648
*****FREE SHIPPING*****
Free shipping on all orders over $49.95 within the continental United States
Bachelorette Party
Bachelorette Party
Style #:21-1648
60% OFF Special Offer
A fun assortment of Bachelorette Party designs that can be used in combinations all over the lucky girl's glass to have a fun way to celebrate her last days as a single women.
Girls Night Out: 1.75" x 5/8"
Ring: .75" x .75"
High Heels: .75" x .75"
Before the Ring! : 2.5" x .25"
View Over N Over Instructions
Related Projects
Get discounted pricing on Special Offer items when you buy today.
Denotes exclusion from all discount offers. Discount codes are not applicable on excluded items.