Assorted Holidays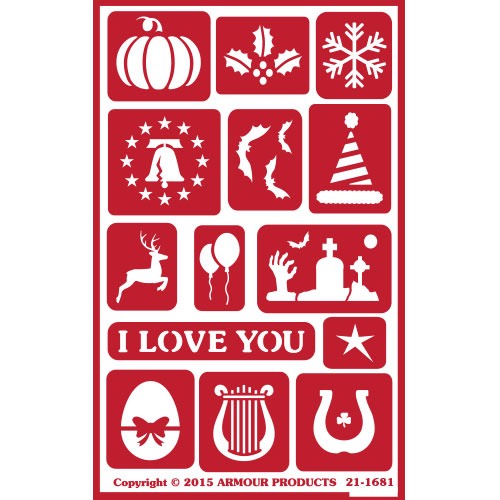 Default Manufacturer
,Valentines,Love,hearts,lips,Over,n,Over,Stencils
21-1681
21-1681
6.50
Etchworld.com
https://www.etchworld.com/Item/21-1681
*****FREE SHIPPING*****
Free shipping on all orders over $49.95 within the continental United States
Assorted Holidays
Assorted Holidays
Style #:21-1681
Christmas, Valentine's Day, Easter, St Patrick's Day, Patriotic, Birthdays, Halloween
Use them in combinations to create one of a kind glassware. This sheet has a wide variety of special holidays. Combine them with our other holiday stencils.
Sizes are approximate ... width x height
Pumpkin: 1.25" x 1.25"
Snowflake: 1.0" x 1.0"
Liberty Bell: 1.5" x 1.5"
Bats: 1.0" x 1.25"
Balloons: 0.75" x 1.25"
I LOVE YOU: 3" x .25"
Cemetery: 1.75" x 1.125 "
Easter Egg: 1.0" x 1.25"
Harp: 1.0" x 1.25"
View Over N Over Instructions
Related Projects
Get discounted pricing on Special Offer items when you buy today.
Denotes exclusion from all discount offers. Discount codes are not applicable on excluded items.