Musical Notes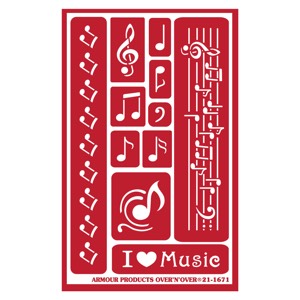 Default Manufacturer
By popular demand we are offering our over n over stencil material in 5x8 sheets for custom stencil use. Just like out pre-cut line of over n over stencils, your designs can be used multiple times. pens, pencil and markers all work on the material for tracing out your pattern..
21-1671
21-1671
6.50
Etchworld.com
https://www.etchworld.com/Item/21-1671
*****FREE SHIPPING*****
Free shipping on all orders over $49.95 within the continental United States
Musical Notes
Musical Notes
Style #:21-1671
Do, Re, Mi......Fa, La, La, La, La
Musical notes will bring music to your glassware.
Sizes are approximate..... width x height
Large Border of Notes: 6.0" x 1.25"
Clef Note: .625"x 1.5"
Large Note: .375" x 1.5"
I Love Music: 2.75" x 0.50"
Double Note Border: 7.0" x 0.5"
View Over N Over Instructions
Related Projects
Get discounted pricing on Special Offer items when you buy today.
Denotes exclusion from all discount offers. Discount codes are not applicable on excluded items.