Irish sheet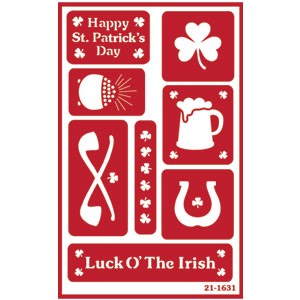 Default Manufacturer
Clover,Luck,o,the,Irish,horseshoe,pot,o,gold,Over,n,Over,Stencils,St Patrick, St,Patrick
21-1631
21-1631
6.50
Etchworld.com
https://www.etchworld.com/Item/21-1631
FREE Shipping on Orders of $39.95 or more!
Offer Valid to Continental United States only!
Irish sheet
Irish sheet
Style #:21-1631
Irish assortment: Clover, lucky horseshoe, pot o'gold & more
Use them in combination's to create one of a kind glassware. Geometric shaped drinking glasses are very popular. Why spend money on decorated glasses when you can do it yourself more economically.
Happy St Patrick's Day: 1.25" x 2.0"
Pot o gold: 1.75" x 1.0"
Crossed pipes: 1.25" x 2.5"
Clovers: .375" x 2.5"
Luck o the Irish: 1.50" x 4.12"
Clover: 1.255" x 1.25"
Cup of ale: 2.0" x 1.625"
Horse shoe: 1.25" x 1.25"
View Over N Over Instructions
Related Projects