ONO Easter Egg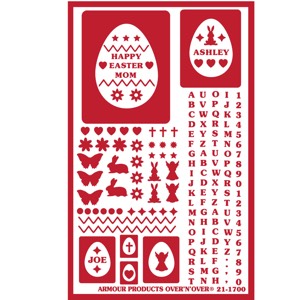 Default Manufacturer
Easter,rabbit,bunny,egg,basket,chick,chickie,Happy Easter
21-1700
21-1700
6.50
Etchworld.com
https://www.etchworld.com/Item/21-1700
ONO Easter Egg
ONO Easter Egg
Style #:21-1700
A fun assortment of Easter Bunny and Easter Egg designs that can be used in combinations to create personalized and fun Easter Bunny motifs to adorn your holiday table.
First: Place the Easter Egg stencils onto a glass item.
Second: Place the elements or letters of your choice in the center of the open area, using tweezers (optional).
Mix and match elements from any of the other Over N Over stencils.
Etch according to the directions inside of your stencil package.
Sizes are approximate: width x height
Large Easter Egg: 1.75" x 2.25"
Medium Easter Egg: 1.25 x 2.5"
Small Eater Egg: .75" x 1.00"
Letters are approx. 3/16" high
Software: Kryptronic eCommerce, Copyright 1999-2020 Kryptronic, Inc. Exec Time: 0.033301 Seconds Memory Usage: 1.257591 Megabytes