ONO Cupcakes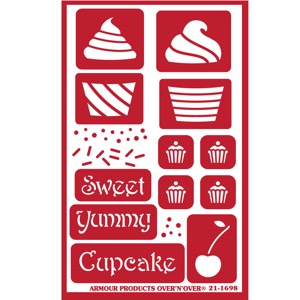 Default Manufacturer
21-1698
21-1698
6.50
Etchworld.com
https://www.etchworld.com/Item/21-1698
ONO Cupcakes
ONO Cupcakes
Style #:21-1698
Use them in combination's to create one of a kind glassware. Geometric shaped drinking glasses are very popular. Why spend all that money for decorated glasses when you can do it yourself more economically.
Cupcake top (left): 1.5" x 1.0"
Cupcake top (right): 1.5" x 1.25"
Sweet: 1.75" x .5"
Yummy: 2.0" x .75"
Cupcake: 2.75" x .75"
Cupcake bottom (left): 1.5" x 1.0"
Mini cupcakes: .75" x 1.0"
Cherry: 1.0" x 1.5"
Related Projects
Get discounted pricing on Special Offer items when you buy today.
Denotes exclusion from all discount offers. Discount codes are not applicable on excluded items.
Software: Kryptronic eCommerce, Copyright 1999-2020 Kryptronic, Inc. Exec Time: 0.098855 Seconds Memory Usage: 9.443703 Megabytes