Deluxe Glass Etching Kit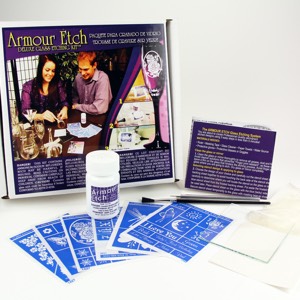 Default Manufacturer
This Kit by far our most popular glass etching kit for self-instruction.
10-0101W
10-0101W
21.38
Etchworld.com
https://www.etchworld.com/Item/10-0101W
Deluxe Glass Etching Kit
Deluxe Glass Etching Kit
Style #:10-0101W
25% OFF Special Offer
Our Deluxe Kit is packed full of etching supplies
2.8 oz bottle of Armour Etch Cream
Assortment of Rub N Etch Stencils
Stencil vinyl 3x3 in for custom stencil cutting
Stencil cutting knife
Camel hair brush
One pair of re-usable vinyl gloves
Stencil applicator stick
Illustrated full color instructions
3-1/2" x 3-1/2" piece of practice glass for your first glass etching project.
Get discounted pricing on Special Offer items when you buy today.
Denotes exclusion from all discount offers. Discount codes are not applicable on excluded items.