Deluxe Glass Etching Kit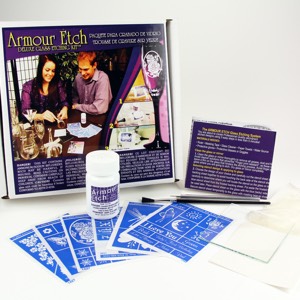 Default Manufacturer
This Kit by far our most popular glass etching kit for self-instruction.
10-0101W
10-0101W
14.71
Etchworld.com
https://www.etchworld.com/Item/10-0101W
*****FREE SHIPPING*****
Free shipping on all orders over $49.95 within the continental United States
Deluxe Glass Etching Kit
Deluxe Glass Etching Kit
Style #:10-0101W
33% OFF Special Offer
Our Deluxe Kit is packed full of etching supplies
2.8 oz bottle of Armour Etch Cream
Assortment of Rub N Etch Stencils
Camel hair brush
Stencil applicator stick
Illustrated full color instructions


These four items, shown above, are no longer included in this kit.
3-1/2" x 3-1/2" piece of practice glass for your first glass etching project.
Stencil vinyl 3x3 in for custom stencil cutting
Stencil cutting knife
One pair of re-usable vinyl gloves
Get discounted pricing on Special Offer items when you buy today.
Denotes exclusion from all discount offers. Discount codes are not applicable on excluded items.