Halloween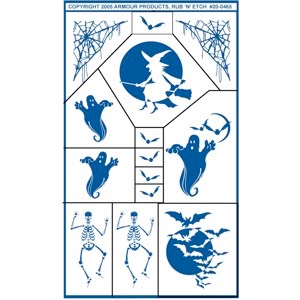 Default Manufacturer
Halloween Rub N Etch Stencil..... OOOOOoo scary!
20-0465
20-0465
4.99
Etchworld.com
https://www.etchworld.com/Item/20-0465
Halloween
Halloween
Style #:20-0465
Stencil Designs and Sizes (Height x width):

Spider webs: 2" x 2"
Bats: .5" x .5"
Left side Ghosts:1.25" x 1" ea
Right side Ghost:1.75" x 2.25"
Skeletons:2" x 1"
Moon with Bats:2.25" x 2"

Get discounted pricing on Special Offer items when you buy today.
Denotes exclusion from all discount offers. Discount codes are not applicable on excluded items.
Software: Kryptronic eCommerce, Copyright 1999-2020 Kryptronic, Inc. Exec Time: 0.097379 Seconds Memory Usage: 8.76239 Megabytes