ONO Small Letters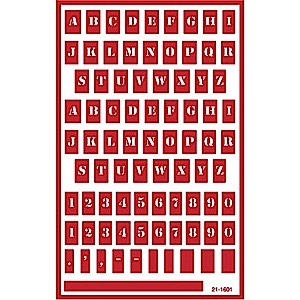 Default Manufacturer
Each sheet contains 2 sets of Upper case letters and 2 sets of numbers 0 thru 9, plus punctuation marks and blanks for spacing words. Letter height: 1/4" Width: 1/8" narrowest letter to 1/4" widest letter
21-1601
21-1601
6.50
Etchworld.com
https://www.etchworld.com/Item/21-1601
ONO Small Letters
ONO Small Letters
Style #:21-1601
Each sheet contains 2 sets of Upper case letters and 2 sets of numbers 0 thru 9, plus punctuation marks and blanks for spacing words.
Letter height: 1/4"
Width: 1/8" narrowest letter to 1/4" widest letter
Get discounted pricing on Special Offer items when you buy today.
Denotes exclusion from all discount offers. Discount codes are not applicable on excluded items.
Software: Kryptronic eCommerce, Copyright 1999-2020 Kryptronic, Inc. Exec Time: 0.029047 Seconds Memory Usage: 1.305923 Megabytes