Small Letters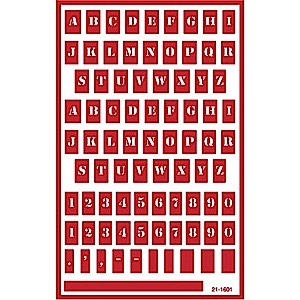 Default Manufacturer
Each sheet contains 2 sets of Upper case letters and 2 sets of numbers 0 thru 9, plus punctuation marks and blanks for spacing words. Letter height: 1/4" Width: 1/8" narrowest letter to 1/4" widest letter
21-1601
21-1601
6.50
Etchworld.com
https://www.etchworld.com/Item/21-1601
*****FREE SHIPPING*****
Free shipping on all orders over $49.95 within the continental United States
Small Letters
Small Letters
Style #:21-1601
Reusable, self-stick Glass Etching Stencils available in a variety of motif sizes and styles.
Each stencil sheet is 5" X 8" overall size.
Mix or match the designs or repeat them on the same project to create one of a kind projects for home decor, holiday, special occasions or personalized gift giving.
Each sheet contains 2 sets of Upper case letters and 2 sets of numbers 0 thru 9, plus punctuation marks and blanks for spacing words.
Letter height: 1/4"
Width: 1/8" narrowest letter to 1/4" widest letter
View Over N Over Instructions
Related Projects
Get discounted pricing on Special Offer items when you buy today.
Denotes exclusion from all discount offers. Discount codes are not applicable on excluded items.