Baby's First Moments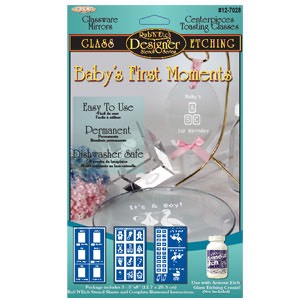 ARMOUR ND
baby designs to etch a special gift or holiday ornamnet
12-7028
12-7028
0.99
Etchworld.com
https://www.etchworld.com/Item/12-7028
*****FREE SHIPPING*****
Free shipping on all orders over $49.95 within the continental United States
Baby's First Moments
Baby's First Moments
Style #:12-7028
Use this unique system to personalize a present for that special new addition to your family. Stencils go from 1st to 5th years.
The sheet with Baby's Birthday is approx 2.25" high
The storks are approx. 2.25" high x 2" wide
The Bundle of Joy is approx. 2.75" high x 2.25" wide
Get discounted pricing on Special Offer items when you buy today.
Denotes exclusion from all discount offers. Discount codes are not applicable on excluded items.