Floral Designs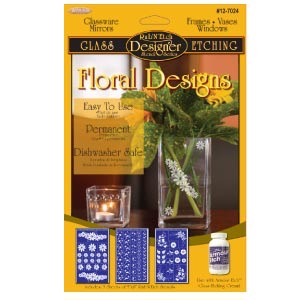 ARMOUR ND
Brighten up those winter days with Floral Designer Stencils. Turn that old glass vase into a creative masterpiece with springtime flowers. Welcome in the warmer weather with glass candleholders decorated with elegant etched floral borders. We have also included floral corners to enhance the look of all types of glassware mirrors decanters and other various shaped glass etching projects. Sizes for stencil artwork can be found by clicking on the individual stenicl sheet part number below in Related Products section (see below). This package includes individual stencils part numbers 20-0485 20-0486 & 20-0487
12-7024
12-7024
0.99
Etchworld.com
https://www.etchworld.com/Item/12-7024
*****FREE SHIPPING*****
Free shipping on all orders over $49.95 within the continental United States
Floral Designs
Floral Designs
Style #:12-7024
Brighten up those winter days with Floral Designer Stencils. Turn that old glass vase into a creative masterpiece with springtime flowers. Welcome in the warmer weather with glass candle holders decorated with elegant etched floral borders. We have also included floral corners to enhance the look of all types of glassware, mirrors, decanters, and other various shaped glass etching projects.
Sizes for stencil artwork can be found by clicking on the individual stencil sheet part number below in the You Might Also Like ... section (see below). This package includes individual stencil part numbers 20-0485, 20-0486 & 20-0487.
Get discounted pricing on Special Offer items when you buy today.
Denotes exclusion from all discount offers. Discount codes are not applicable on excluded items.