Auto Etch Vin Etching System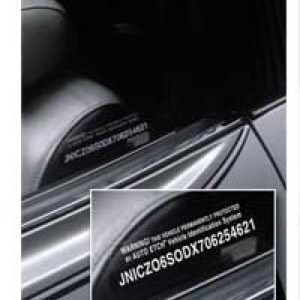 ARMOUR ND
0
50-0890
s50-0890
4.90
Etchworld.com
https://www.etchworld.com/Item/50-0890
FREE Shipping on Orders of $39.95 or more!
Thanksgiving Closing: Our Office will be closed November 25 & 26, 2021
Christmas Closing: We will be closed from December 23, 2021 to January 2, 2022 and reopening January 3, 2022
Auto Etch Vin Etching System
Auto Etch Vin Etching System
Style #:s50-0890
51% OFF Special Offer
Vehicle Identification System. Now anyone can permanently etch their federally registered vehicle identification number (or VIN#) on up to six windows of their car, truck or van using our patented Auto Etch System. Each kit contains 6 alignment templates and enough numbers and letters to re-create any number up to 18 digits long. These templates and stencils are specially designed to adhere to glass when rubbed into place. Armour Etch glass etching cream is brushed onto the stencil and after 1 minute, the etching cream and stencil are removed from the glass using a sponge and ordinary tap water. The etched VIN number is permanently etched into the glass."
Get discounted pricing on Special Offer items when you buy today.
Denotes exclusion from all discount offers. Discount codes are not applicable on excluded items.