2 oz Blue Etch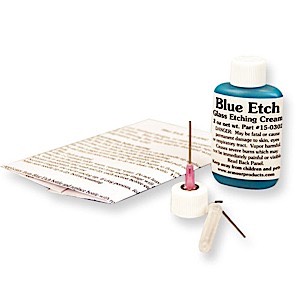 Default Manufacturer
Armour Etch is a fast acting specially formulated glass etching compound that lets you create permanent etched designs on windows mirrors and household glassware. Create your own custom glass etching stencil or use one of our pre-cut stencils. This unique glass etching system enables anyone to personalize and decorate glass or mirrors in minutes with no previous experience. T
15-0302
15-0302
8.75
Etchworld.com
https://www.etchworld.com/Item/15-0302
2 oz Blue Etch
2 oz Blue Etch
Style #:15-0302
This item is on CLOSEOUT. We will not offer this again after it is sold out. So order accordingly.

Write words, draw your own freehand designs, or make decorative patterns with this special formula of glass etching solution.

Blue Etch comes in a handy squeeze bottle with a special needle nose applicator tip for drawing fine lines and for freehand writing or lettering.

With Blue Etch, you can let your imagination run wild!

Comes with special applicator tip and instruction sheet

NOTE: The finished etched design will NOT be "blue". This is only the color of this particular product.
Get discounted pricing on Special Offer items when you buy today.
Denotes exclusion from all discount offers. Discount codes are not applicable on excluded items.
Software: Kryptronic eCommerce, Copyright 1999-2020 Kryptronic, Inc. Exec Time: 0.092184 Seconds Memory Usage: 8.808693 Megabytes